Coin exchange will open when you enter the Garden or Bayside, Lily will give you 100 coins so that you can try to exchange them.
Coins can be exchanged from the last opened locations to your previous ones in chain order: Farm -> Bayside -> Garden.
You can't transfer coins from old locations to the new ones.
You can exchange any amount at a rate of 1 to 1.
Where and what coins can be exchanged:
To the Garden - you can transfer coins from the Bayside and the Farm

To the Bayside - you can transfer coins from the Farm

At the Farm - the button is missing
The coin exchange button is located in the upper left corner between the coins and magic counters: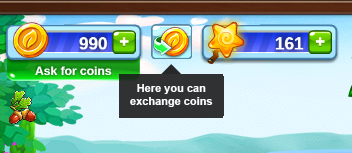 In the exchange window you can see:
How many coins you have in the locations from which (on the left) and to which (on the right) you will transfer coins.

At the left, you can choose how many coins will be converted to the coins shown at the right (in the garden there will be gold coins, on the Bayside there will be sapphire ones). When you click on the "+" and "-" buttons, the coins switch as follows:
From

0 to 50 -

10 coins per click;

From

50 to 150

- 25 coins per click;

From

150 to 300

- 50 coins;

From

300 to 1,000

- 100 coins;

From

1,000 to 10,000

- 1,000 coins;

Above

10,000

- 5,000 coins.
Here you can choose a different type of coins to transfer