General Information
There is the Magic Contest in the game that lasts a week.
It starts at 8 AM PST (7 PM CEST) every Wednesday and ends at 7:59 AM PST (6:59 PM CEST) the next Wednesday.
Within one week, that is one Magic contest, the points earned in tournaments are summed up. You need to win the tournament for the 3 rounds to count.
The rating of the Magic Contest is made up of the sum of points scored in tournaments and the Round the World, training is not taken into account.
After the end of the Contest, the points are reset and the Contest starts anew.
After each victory in the tournament, you see: how many points you have scored for the tournament and how many you need to score for the next stage to receive the reward.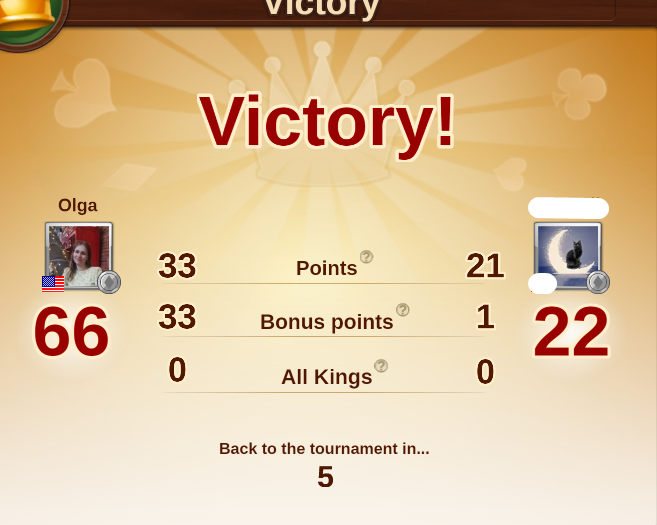 Stages and Rewards
There are 2 types of achievements and awards in the Magic Contest: 5 stages and a weekly ranking with prizes.

Scoring rewards:
| | |
| --- | --- |
| Stage 1 | - 3 magics |
| Stage 2 | - 5 magics |
| Stage 3 | - 8 magics |
| Stage 4 | - 10 magics |
| Stage 5 | - 15 magics |
At the end of the week of the Magic Contest, the players who take the first 100 places in the rating will receive the following awards.
1 place - 50 magics

2 place - 30 magics

3 place - 10 magics

4-10 place - 5 magics
Information in the Game
You can see the leaders of the current competition, as well as your place in it, on the right side of the main screen of the game (first tab). By clicking on the arrow below, you will see your place.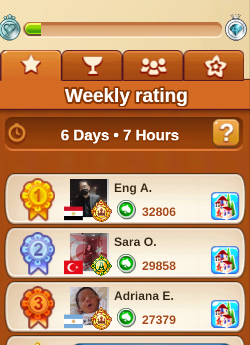 There, you can also see how much time is left till the end of the Contest:

By clicking on this button, you can see the 3 winners of the previous contest:
And the button with a question mark opens the Contest Rules:

In the Contest rules you will find the following information:
Your score

Time until the end of the current contest

Your next award

Rewards for the first 100 places of the weekly ranking.
NOTE! With the start of a new Contest, the points are reset and the competition begins anew.