General Information
World Championship is a time-limited competition between countries on medals. It`s available to all who played 10+ tournaments.
Each player is a significant part of their team - their country. The player chooses their country at the beginning of the contest.
The goal of the players is to earn medals, bring the country to the top in the rankings and get the best awards.
(!) Please note that the country can only be chosen once and cannot be changed during the contest!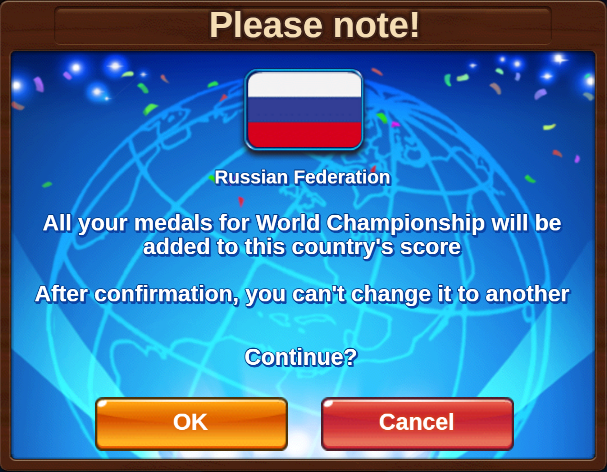 Leagues
All countries are divided into ~5 groups in advance (based on the results of the previous World Championship).

The countries ranking in each league takes into account the sum of points of the best players from that country. The best representatives of the winning countries will receive prizes.
Each league sets a different number of players, which affects the overall team rating.
At the end of each World Championship, the countries that advance to the higher and lower leagues are determined.
Rewards
5 Stages of the Championship:

top players of the country will receive prizes and memorable decorations for their current location for completing stages.

Countries taking 1st, 2nd and 3rd places in the final results:

top players of the country will receive prizes and a memorable Cup for their current location.
Streak
In this contest, a streak (a series of victories with kings without defeat) can be completed 4 times, the streak is updated 15 minutes after you complete it.
Side Panel Navigation
The side panel changes as the teams go through the stages of the contest.
With Progress Bar
On the side panel you will see the stages of the contest. When you hover over a stage, you can see the number of medals a team has to collect to pass the stage, and the rewards the top players will share after passing the stage.
On the top of the side panel, you can see the number of your medals and your position within the team.
You can click on the "Rewards" button to see the prize pool of your league for positions in the leaderboard and for completing the stages of the competitions.
By clicking on the tab "Rating" button, you will see all teams rating in the league and possible prize.
In the upper right corner, there is a button with a question mark ("?") to call up additional information about the event.
Rating Stage
Appears after the players have passed the final stage. Countries compete for a position in the leaderboard.
Results
At the end of the Championship, the side panel remains for some time, demonstrating the results of the Championship.
By clicking on the Result tab you will see the World Championship winners, your country's result and your result within the team.