Each participant will have to paint a picture with paints. Paints are collected for completing the Chapters and Stages of the Contest. To complete the Stages of the Contest, you need to collect Inspirations. They drop from under Queens in regular tournaments, tournaments in the Round the World mode and Knockout.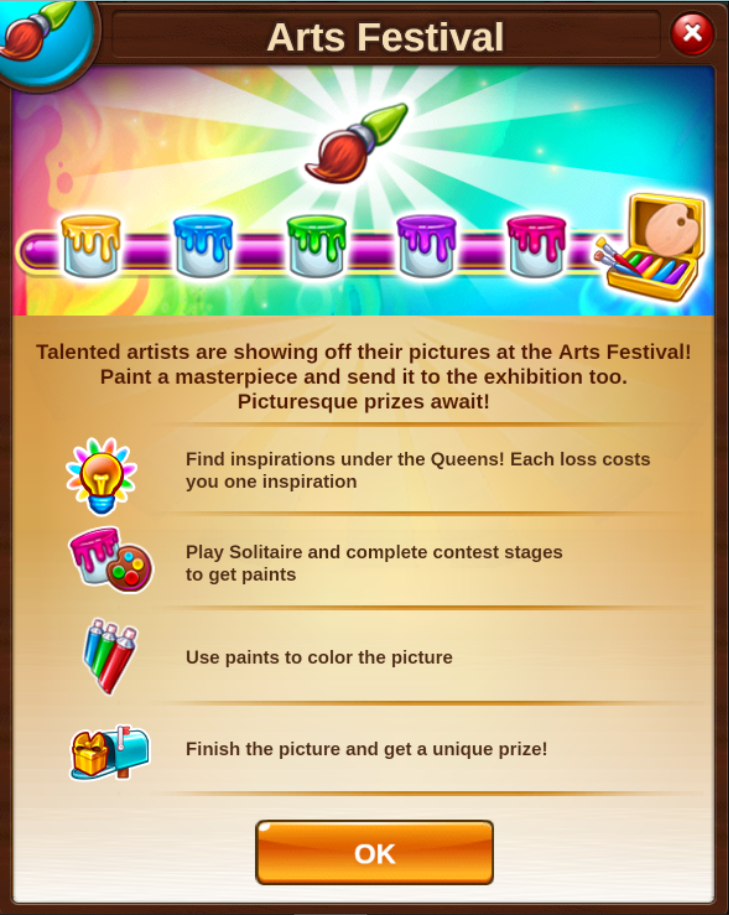 General Info
To complete Stages, you need to collect Inspirations, they can be found under Queens and you can ask your friends for them.
If you lose in the tournament, you lose one Inspiration
Solitaire Social & Club — 1 Inspiration from under each Queen
Solitaire 3 Social — 3 Inspirations from under each Queen
You collect Inspirations after each game.
You can also ask 3 friends for Inspirations daily, 15 Inspirations from each of them.
At the end of the five main and five bonus stages, players can continue to compete with each other (rating stage of the event) by the number of scored Inspirations.
At the very end of the competition, the winners will get the following rewards:
1st place - 100 magic
2nd place - 50 magic
3rd place - 30 magic
4-10 place - 20 magic
11-20 place - 10 magic
Top Panel
The progress of the event is displayed on the top panel of the game.

For completing the Chapters of the competition, you will receive Paints, magic, and coins.
For achieving intermediate goals between levels - coins and sometimes Inspirations.
On the left side, you can see how many Inspirations you have / how many Inspirations you need to collect to advance to the next Chapter.
Below this number, you can find a rating button where all players are listed according to their number of accumulated Inspirations. Here you can also ask your friends for Inspirations (icon with people).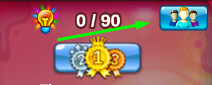 Coloring-in and Rewards
Click the button "Coloring-in" located on the top panel to see the picture.

Here you will see a picture with digits for coloring-in. The digits mean the number of colors required for coloring the area.
After you have colored the whole picture, you will receive the main reward.
There are several ways to get Paints:
for completing a new stage of the event

for completing a streak

for completing the supreme quest

buy in a store or during sales
You can color a picture in two ways.
Clicking on the Use button. In this case, a random area will be colored.

Clicking on the desired area. In this case, you yourself choose the area you want to paint.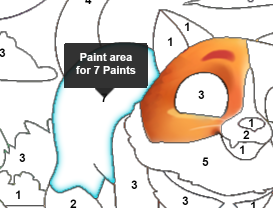 Please note: an area can only be painted when you have the required amount of paints for that area.
After receiving the main prize, you can paint a NEW picture again and get a NEW prize.
Good luck in the Contest!